Summer Road Travel Tips for Parents
We've collected some valuable advice to make your road travels more manageable and enjoyable for you and the kiddos.
AAMCO
| 07/20/2022

It's summertime, so many families will hit the road for vacation. Traveling with young children can be challenging, but a little preparation can go a long way.
If you take off without preparing for the journey, you may face a vacation that goes from dream to nightmare in a hurry. Before you load up the car and hit the highway, take some time to review these safety tips!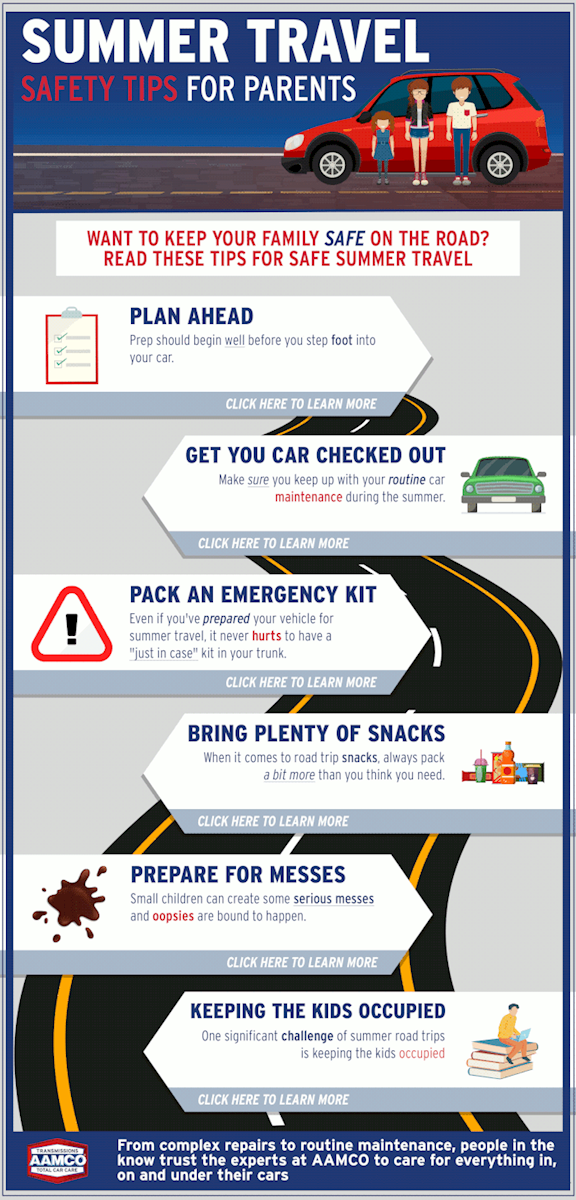 6 Tips for a Safe and Enjoyable Summer Road Trip
1. Plan ahead
There's nothing quite the open road, the wind in your hair, the anticipation of a new adventure—what could be better?
Of course, before you hit the road, planning is essential. A little bit of preparation can go a long way toward ensuring a safe and enjoyable journey.
One of the most important things you can do is have roadside assistance numbers on hand. In case of a breakdown or accident, calling for help can make all the difference.
Take a close look at the route you'll be taking. Note any areas that may be particularly challenging, such as winding roads and steep grades, and plan accordingly.
It's also a good idea to familiarize yourself with the weather conditions along your route. Knowing what to expect can help you dress appropriately and pack appropriately.
Finally, don't forget to leave some room in your itinerary for spontaneity! Part of the beauty of a road trip is that it gives you the freedom to explore. So if you see an intriguing sign or an inviting turn-off, don't hesitate to take it!
2. Get your vehicle checked out
The last thing you want on a road trip is to have your vehicle break down. Avoid this stressful situation by getting your car, truck, or SUV checked out before you go.
There are several maintenance items you should check, including:
Tire check: Ensure your tires are properly inflated and have enough tread to last the journey.
Oil change: This will help ensure your engine stays adequately lubricated to avoid overheating.
Windshield wipers: You'll be doing a lot of driving, so you'll want clear visibility in all weather conditions.
Brakes: Nothing is more important than being able to stop safely, so make sure your brakes are in good condition before you go.
A/C: There's nothing worse than being stuck in a hot car, so make sure your air conditioning is in good working order.
By ensuring your vehicle is in top condition, you can avoid a breakdown and enjoy a much smoother ride. It's best to get these items checked throughout the summer to keep your car running smoothly.
3. Pack an emergency kit
You may think you'll never need an emergency kit, but it's always better to be safe than sorry. Having a few essential items on hand can make all the difference if you're involved in a breakdown or accident.
Your emergency kit should include these items:
First-aid kit: This should include bandages, gauze, scissors, and other essential supplies.
Flashlight: You may need to change a tire or look under the hood in low light conditions.
Jumper cables: If your battery dies, jumper cables will allow you to start your car from another vehicle.
Tire jack and spare tire: If you get a flat tire, these items will help you change it.
Fire extinguisher: This could be vital if your vehicle catches fire.
Bottled water and snacks: If you get stranded, having some food and water will help you stay comfortable until help arrives.
Keep your emergency kit where you can easily reach it, and check it regularly to ensure the items are in good condition before leaving!
4. Bring plenty of snacks
Packing a cooler helps keep perishable food protected, crisp, and cool. Regarding road trip snacks, always pack a little more than you think you'll need. You never know when you might get stuck in traffic or when the kids will start to get hungry.
However, don't simply pack sugary snacks that will give a quick burst of energy followed by an inevitable crash. Instead, try to include a mix of healthy and treat options.
Some good ideas include:
Fruits and vegetables: Pack some cut-up fruit or veggies for a healthy snack option.
Protein bars or nuts: These will help keep you full and satisfied.
Chips or pretzels: For when you need a little something to tide you over.
Candy or chocolate: A sweet treat can be a nice pick-me-up after a long day on the road or as a reward for good behavior.
5. Prepare for messes
Small children can sometimes make a lot of messes—especially when they're cooped up in a vehicle for hours at a time.
It's essential to be prepared when things do not go as planned. That way, you won't get too stressed if something ends up on the floor or the seats.
Here are a few tips to help you keep your car clean:
Wipes and hand sanitizer are great for cleaning up spills and sticky fingers.
A small hand vacuum is handy for getting rid of crumbs and dirt.
Big or small garbage bags can store wet or dirty clothes and trash accumulating during the trip.
6. Keeping the kids occupied
One significant challenge of summer road trips is keeping the kids occupied.
In a perfect world, traveling to an exciting new place would be enough to keep children entertained. In reality, however, they often get bored in the vehicle after a few hours (or minutes!). Squabbling or annoyed kids can make for a stressful, distracting environment, which can be dangerous during road travel.
To avoid constant whining and meltdowns, it's essential to bring along some activities to keep kids occupied. Here are a few ideas:
coloring books and crayons
portable DVD player or tablet with downloaded shows
laptop or tablet with kid-friendly games and apps
handheld game console
books and comics
music CDs or their favorite playlist
Don't forget the classic road trip games the whole family can enjoy, such as I Spy, the License Plate Game, and 20 Questions, or even an audiobook for the entire family to listen to. These can keep the kids (and parents) entertained for long stretches—and avoid too much screen time!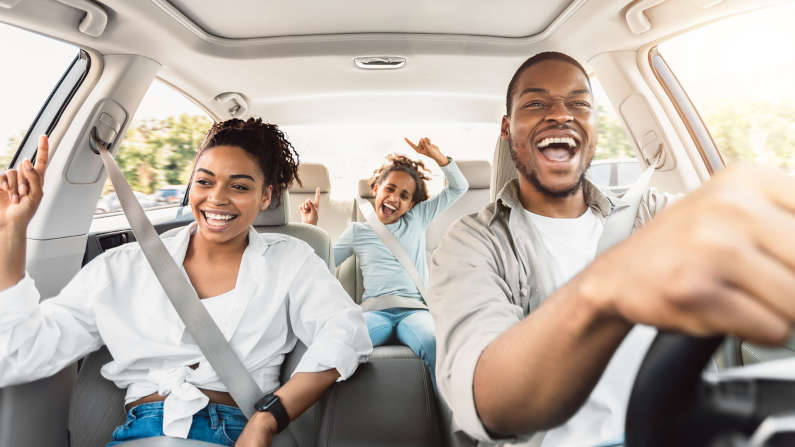 Prepare For a Summer of Fun
Summer trips can be some of the most memorable times in life. From seeing incredible sights to making new friends, there's so much to enjoy.
Following the tips in this article can help ensure that your summer road trip is safe and fun for the whole family.
Before you get on the road, schedule time to visit your local auto mechanic to get your car checked out. Speaking with a professional can help give you peace of mind and help avoid any stressful surprises down the road.
With these tips in mind, it's time to hit the open road and enjoy all that summer has to offer!
Let Us Help Make Your Trip Safer
Before you embark on your road trip, ensure your vehicle is in safe condition and ready for the journey by having it inspected at an AAMCO Center near you. Our experienced technicians will check everything from the tires to the engine, so you can relax and enjoy the ride safely and with confidence. Contact us today!