Give the Gift of Auto Repair
Help members of your community get back on the road this holiday season by donating to vehicle and automotive repair charities.
AAMCO
| 10/25/2022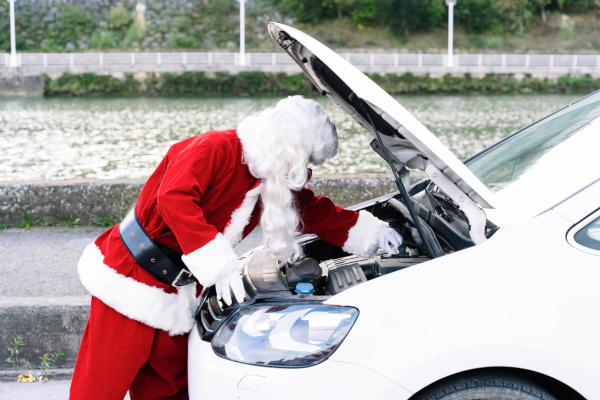 With the holidays around the corner, many Americans will hit the road to spend time with their friends and families. However, vehicle trouble always seems to pop up at the worst times, especially as the colder months draw nearer. If you are looking for a way to give this holiday season, consider giving the gift of mobility to those in need in your community.
There are many charities and programs that help different populations finance car repairs or get through car trouble, and they need your help to fund them.
Charities Giving the Gift of Mobility
Many organizations across the country (locally, statewide, and nationally) help different populations finance car repairs or get through vehicle trouble, and they need your help to fund them. These charities accept vehicle or monetary donations, although some may even take donated car parts.
Nationally, some of the best charities for vehicles and car repairs include:
Modest Needs Foundation – This organization helps low-income individuals and families with unexpected expenses, and vehicle repairs fit the bill. You can donate money to this charity via credit card or PayPal. Modest Needs Foundation only raises as much money as an applicant needs after Modest Needs' donors have reviewed the application.
Operation Homefront – This organization assists active military and veteran families and individuals with all kinds of financial expenses and needs, including vehicle repairs. You can donate money to specific families with an urgent need, or you can make a general donation that can help with automotive expenses. If you have your own vehicle repair service, you could even make an in-kind donation of your abilities.
1-800-Charity Cars – Often considered the original car charity, 1-800-Charity Cars provides vehicles to struggling individuals, including military veterans, victims of domestic violence, the medically needful, and victims of natural disasters. You can donate your car, working or not, and it will either be donated to someone in need or sold to fund repairs for other donated vehicles.
National charities with local branches – Some national charities have local branches helping those in your community with automotive expenses. Check out your local Salvation Army or United Way branch to see how they assist with transportation needs.
Where Can I Find These Charities?
Along with these national organizations, several local and state charities also help individuals needing automotive assistance. There are too many organizations to list, but they are easy to find if you know where to look.
The easiest way to find these charities is to search for vehicle repair charities online. Another great source is to check with local churches, many of which have some kind of emergency expense assistance program for low-income families or individuals.
If you want to cut out the charity and give directly to those in need, consider donating on crowdsourcing sites like GoFundMe, where many people around the country turn to for help funding a hefty, unexpected repair bill.
Scams to Watch Out For
Whether you donate to a charity or directly to someone in your community, bad actors are always looking to take advantage of your good heart. Make sure you take these steps to avoid falling for vehicle donation scams.
Check legitimacy – An easy way to get taken advantage of is by working with a scammer posing as a charity. To ensure the charity you consider donating to is legit, look on the IRS website to view the official list of all the charities registered for 501 (c) (3) status.
Avoid intermediaries – Many charities work with for-profit entities. Still, the reality is that most of the money or goods you give to the middleman to donate to the charity on your behalf end up in the middleman's pocket rather than benefiting your charity of choice. It's best if you work directly with the charity.
Trust who you know – Ask people you know and trust about any charities they know that would be good to donate to, and even ask them about charities you've heard about and get their opinion on them. One of the best ways to learn about a charity and its trustworthiness is through word of mouth.
View customer ratings – You can also look online to get an idea of what other people think about the charities you are considering donating to. Read the reviews carefully. If low customer ratings are consistent in their complaints, think twice before working with the charity.
Explore the website – With how simple it is to build websites these days, scammers can easily create a quick, professional-looking webpage. However, if you dig a little deeper, you can often find something that doesn't quite add up — a broken link, vague web copy, or no FAQ page. Be sure the website is robust and answers most or all your questions.
Why Transportation Is Important to Communities
When the season of giving comes around, many people think about donating to housing assistance, education programs, or food banks. All of that is great, important, and needed, but many people forget how vital reliable transportation is to our society. People can only get to and from their homes, workplaces, grocery stores, or medical care facilities with proper transportation. Families without a means of transport cannot get together for the holiday season or go to activities and programs to build their social and emotional well-being. Without transportation, people are stuck. Considering the average American drives about 12,724 miles a year, or 35 miles a day, it's clear that people need reliable transportation.
However, owning and maintaining a vehicle can be expensive, and when it breaks down, it can hit a person's bank account hard. The average cost for a vehicle repair is $500 to $600, but often much more. Worse yet, only 39% of Americans can cover an unexpected expense of $1,000 or more.
Help Your Neighbor with Auto Care This Holiday Season
You can help make a difference in someone's life by giving them the gift of mobility this holiday season. Whether you donate a vehicle, repair service, or money to a charity that helps those in need of a vehicle or repair work, you can make a real difference in the lives of the people in your community.