7-Point Cold Weather Vehicle Maintenance Checklist
Here's a quick vehicle checklist that prepares your vehicle for cooler weather and the holiday season!
AAMCO
| 11/09/2021

When it comes to holiday travel, the only thing worse than being stuck in a crowded airport terminal is being stuck on the side of a snowy road. Or worse, getting stranded in a remote location after driving hundreds of miles from home for a holiday dinner!
Being prepared for vehicle trouble during cold weather and holiday travel starts before you ever turn the ignition key. Here's a 7-step checklist for you to go through before setting out on a road trip during the winter months: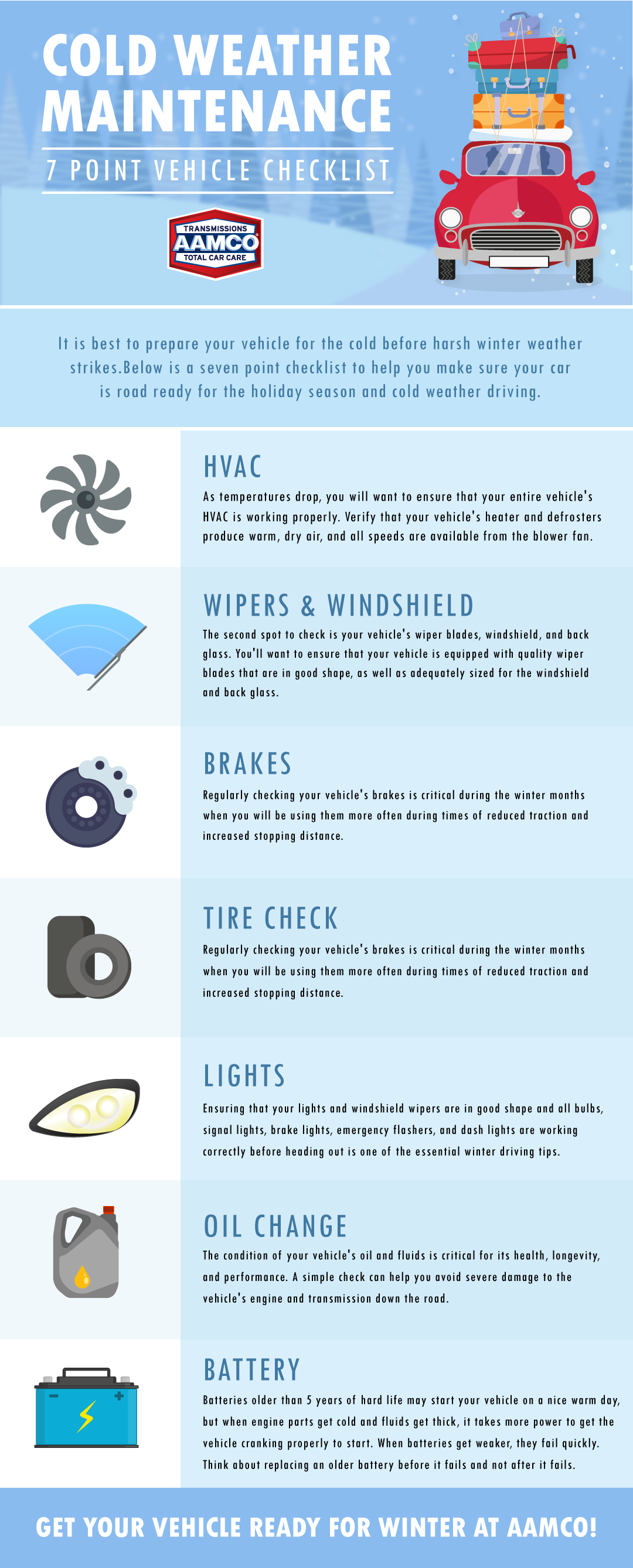 1. HVAC System
Your first check is your HVAC—Heating, Ventilation, and Air Conditioning system.
Did you know your air conditioning system works with your heater to dehumidify the heated air so your defrosters do not fog and ice the windshield? It is essential that both the heater and A/C system are in top-notch form before it gets cold. As temperatures drop, you will want to ensure that your entire vehicle's HVAC is working properly. Verify that your vehicle's heater and defrosters produce warm, dry air, and all speeds are available from the blower fan.
Here are a few potential trouble spots to look for with your ventilation:
Windows are fogging or icing due to cold outside air and warm, moist inside air
Intake vents for your vehicle's HVAC system may be blocked by ice, snow, and leaves.
The cabin air filter may be dirty or clogged with debris hampering airflow into the heater and ventilation system.
Areas of leakage or seepage around doors and windows, particularly if your vehicle is older and poorly sealed from the elements.
Coolant leaks under the hood or on the floorboards may point to a leaking heater core
2. Wipers & Windshield
The second spot to check is your vehicle's wiper blades, windshield, and back glass. You'll want to ensure that your vehicle is equipped with quality wiper blades that are in good shape, as well as adequately sized for the windshield and back glass.
Many drivers hit the road during the winter, only to find that the windshield wipers are in poor condition. If your vehicle's wiper blades are streaking or smearing, it will be difficult to see clearly and could put you at risk of an accident if road and weather conditions become dangerous.
You'll also want to make sure that your washer fluid is full and functional, as well as ensuring there isn't any ice or snow blocking your wiper blades before you take to the road.
3. Brakes
Regularly checking your vehicle's brakes is critical during the winter months when you will be using them more often during times of reduced traction and increased stopping distance.
Your brake system needs to be in top shape before heading out on long trips. Check your brake pads and rotors to ensure they are not too worn, your brake fluid isn't low, and the braking system has no other defects.
You'll also want to perform a quick test of your anti-lock brake system or ABS. If you are driving an older vehicle that does not have anti-lock brakes, it's a good idea to pull onto a safe area of the road and step on the brakes firmly to ensure that your vehicle stops properly.
Not sure if your brakes are ready for winter weather? Visit your local auto technician for a full inspection of the braking system, as well as any required pad or brake part replacement and brake fluid maintenance.
4. Tires
The condition and pressure of your tires are an often-overlooked aspect of vehicle safety and functionality. Healthy and well-maintained tires are essential during winter driving conditions where you need the most traction and control.
You should always have a complete set of matching winter/snow tires. If you're not sure what kind of tires your vehicle needs, then this is something that you'll want to talk with your auto technician about before heading out on a long trip.
If you are considering putting all-season or summer tires on your vehicle, then make sure to research compatibility with your vehicle model.
It's also a good idea to have a set of tire chains available during the winter months if you don't have snow tires, just in case unexpected conditions or emergencies require chins to get you where you need to go. Driving on snow chains should only be used during heavy snowy conditions and removed when on back on clear pavement
5. Lights
Your vehicle's lights and windshield wipers are essential devices that must work correctly, especially during severe or harsh weather conditions that can make it unsafe or impractical to travel, commute, or drive your vehicle. Snow, sleet, frigid temperatures, heavy rain, high winds, and blizzard conditions can find you stuck on the side of the road just because your lights or other parts of your lighting system are not functioning correctly.
Ensuring that your lights and windshield wipers are in good shape and all bulbs, signal lights, brake lights, emergency flashers, and dash lights are working correctly before heading out is one of the essential winter driving tips.
Routinely checking them before you drive will help avoid potential hazards and adjust them properly to give you the best view possible under all conditions.
6. Oil Change and Fluids
The condition of your vehicle's oil and fluids is critical for its health, longevity, and performance. A simple check can help you avoid severe damage to the vehicle's engine and transmission down the road.
Your technician will perform oil changes and fluid changes and provide a fresh filter during regular maintenance visits throughout the year, or you can do this yourself. However, if it has been some time since your last oil or transmission fluid change, you should consider doing this before setting off on a long road trip. Check your owner's manual for time and mileage intervals, and always use the proper oil for your vehicle.
7. Battery
Batteries can die at any time, but did you know that dead batteries are more common in the winter than in any other season? This is especially true because most people wait too long to replace an old battery. Batteries older than 5 years of hard life may start your vehicle on a nice warm day, but when engine parts get cold and fluids get thick, it takes more power to get the vehicle cranking properly to start. When batteries get weaker, they fail quickly. Think about replacing an older battery before it fails and not after it fails.
If your battery does let you down, you should always have a backup plan while you are out on the road. It's best to stay put in your vehicle until help arrives. Use your cell phone, if possible, to call for help. If you have jumper cables, be careful jumpstarting your vehicle with another vehicle—doing this incorrectly can cause electrical damage and do more harm than good. Additionally, jumpstarting is not an option if you are stranded in a remote area or on the side of a road during high-traffic hours. It's best to get off the road and stay in the vehicle until help arrives.
Keep a cold-weather emergency kit in your vehicle, such as a fully charged cell phone, non-perishable food and water, warm clothing, a flashlight, a glass scraper, blankets, medications, and more.
Practice Prevention for a Safe Holiday Season
The last thing you want to ruin your holiday fun is an unexpected vehicle breakdown. With careful driving practices and these winter driving tips, you can ensure that your vehicle makes it through the cold weather without issue.
The best way to prevent costly repairs is to visit your local AAMCO for a full inspection, oil and fluid change, and tire inspection or replacement before heading out on your holiday travels. Preventative maintenance will help avoid potential problems in the future and keep you well-prepared to handle anything that Jack Frost throws at you this winter season.